Western Cape's Prestigious Wine Farms
The Western Cape in South Africa is well known for their unique and delicious wines. Around 40 km east of Cape Town lies a series of valleys collectively known as the Cape Winelands, this area of valleys and shadowy mountain folds is steeped in history and tradition, and winemaking has been synonymous with this part of the country for over 300 years. With so many prestigious and beautiful vineyards to choose from it is easy to become overwhelmed, let Ikewana guide you with our picks for the top vineyards and estates across the winelands.
With 18 official wine routes, which are amongst the most scenic in the world. It is best to take your time exploring this magnificent part of South Africa's Western Cape province, all while sampling some of the best wines the world has to offer.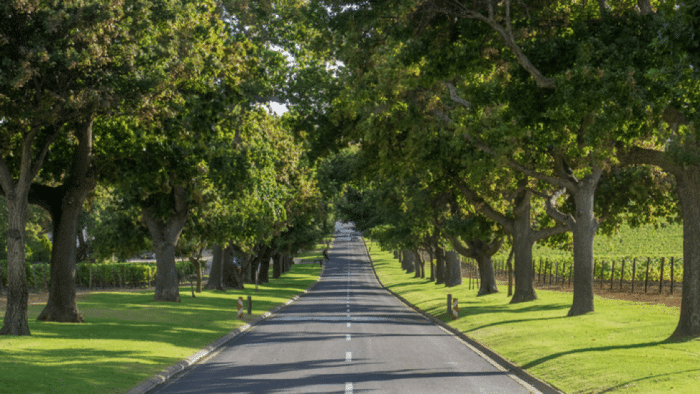 Explore the Constantia Wine Route
The Groot Constantia wine route has some of the oldest vineyards in the cape region and is the oldest wine-making region in the southern hemisphere.
This area of natural beauty is nestled beneath Table Mountain National Park and the Muizenberg Mountains. Less than 30 minutes from the V&A Waterfront, Constantia Valley truly is Cape Town's Vineyard.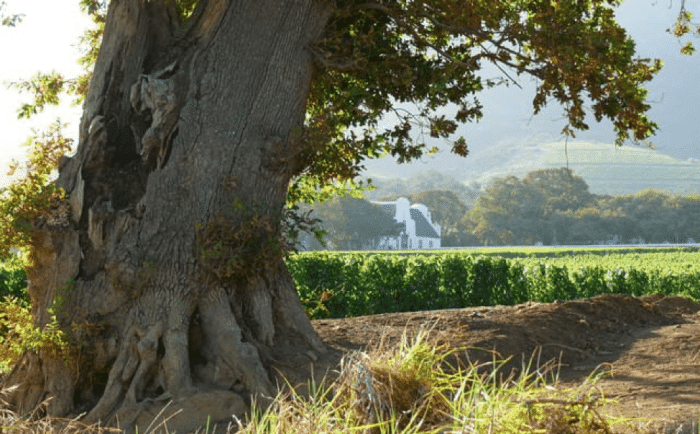 Groot Constantia
Paying a visit to South Africa's first wine farm (over 330 years old) is a must.
Explore the original Cape Dutch Manor House and experience a taste of some of the best wines in South Africa that once supplied Frederick the Great of Prussia, King Louis Philippe of France and Napoleon Bonaparte.
Guests to this estate can opt to tour the estate as well as take part in a wine tasting, or even the chocolate and wine pairing. The estate also boasts two excellent restaurants where guests can savour in some of the cape's best produce.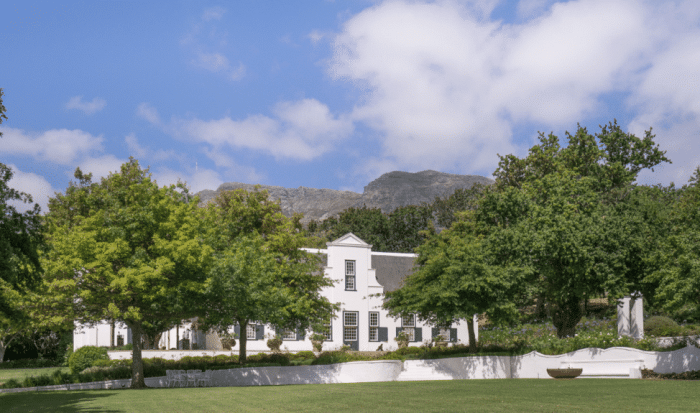 Klein Constantia
Heralded as one of the world's most beautiful vineyards, the 146-hectare Klein Constantia estate is set amidst ancient trees and lush greenery on the upper foothills of the Constantiaberg.
Klein Constantia is home to the renowned natural sweet wine Vin de Constance which was prized by leaders and aristocracy of 18th Century Europe, this wine was revived by the estate in 1986.
A visit to this historic estate is a must, as it is a part of the Cape's winemaking history. Whether you choose to partake in a winetasting or a tour, you will definitely leave with a greater appreciation of Klein Contantia.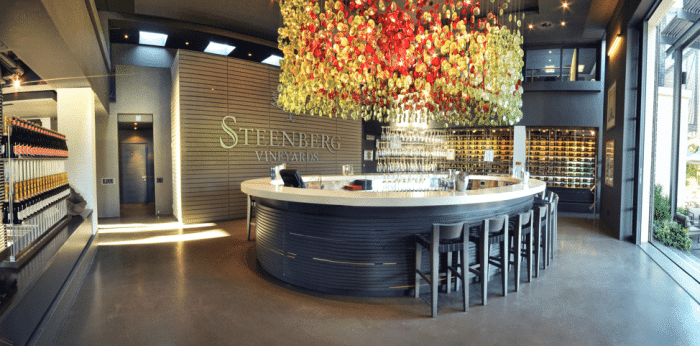 Steenberg Farm
Steenberg farm established in 1682 was the Cape's first farm, and has come a long way from its humble beginnings. The hotel on this stunning estate has been declared a National Monument.
Visitors to Steenberg Farm can either stay the 5-star hotel on the farm or just visit for the day. Enjoy a taste of the estate, with numerous tasting options there is one for everyone. Steenberg Farm produces some of the finest Sauvignon Blanc in South Africa so when you're there make sure to pick up a glass.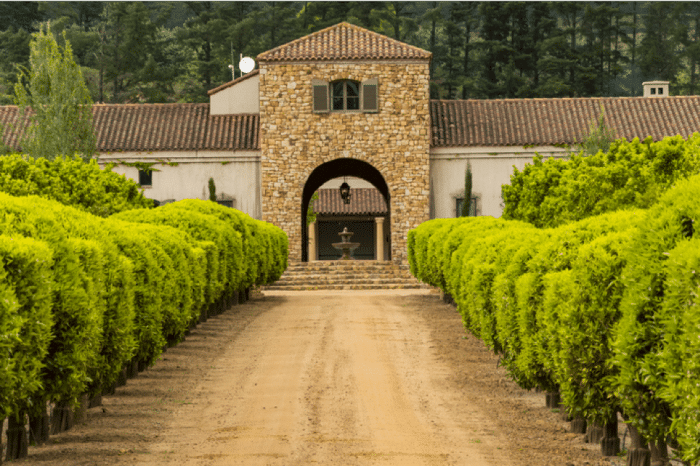 The Stellenbosch Wine Route
Stellenbosch has the privilege of being the most well-known town in South Africa. This area hosts some of the best vineyards in the Cape Winelands. The buildings of Stellenbosch reflect over three centuries of occupation, including Dutch, Georgian and Victorian architecture.
With a myriad of museums, restaurants, and places of interest found along the oak-lined streets there is something for everyone. The town is encircled by the Stellenbosch, Jonkershoek and Simonsberg mountains.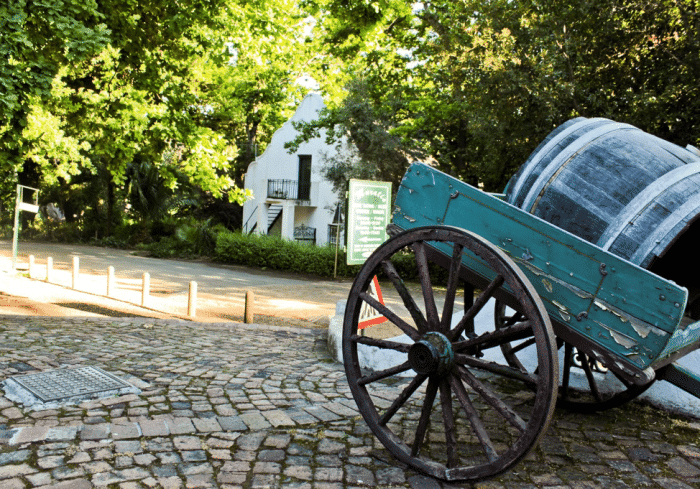 Muratie
The historic wine farm of Muratie has the earliest building in the Stellenbosch area dating back to 1689.
Muratie pays tribute to the traditional, by only hand picking their grapes and using a combination of classic open fermentors and stainless-steel tanks in the wine fermentation process.
With a few tasting options guests can sit down, relax and experience Muratie wine at historical locations on the farm, or they can enjoy a rustic dining experience at the Farm Kitchen.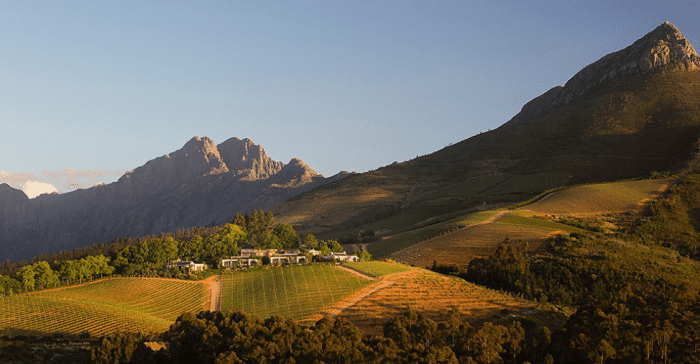 Delaire Graff Estate
Enjoy a luxury winelands experience at Delaire Graff Estate, designed with the discerning global traveller in mind, guests to the estate can bask in breathtaking, uninterrupted views of the Stellenbosch Valley. With both stunning interiors and magical gardens Delaire Graff Estate is a must see.
Delaire Graff has multiple award-winning wines, which guests to the estate can experience in their bespoke wine lounge. With a focus on producing beautifully crafted food that reflects the best seasonal, ethically locally sourced ingredients, dining at either of Delaire Graff Estates restaurants is a must.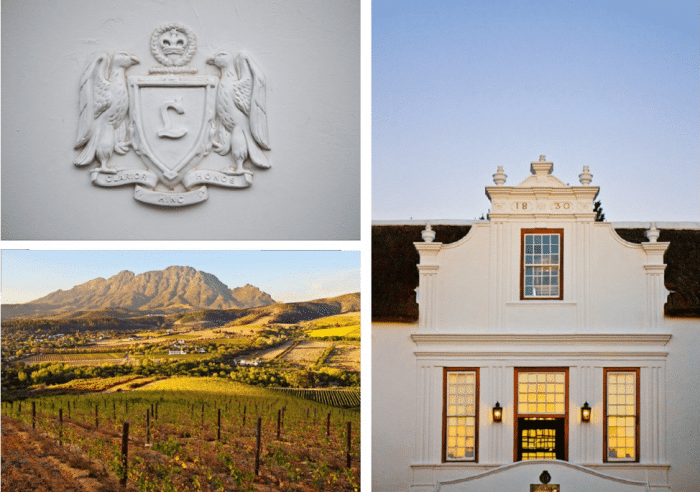 Lanzerac Hotel & Spa
Dating back to 1692, Lanzerac Wine Estate is a historic landmark and a Stellenbosch icon. Lanzerac Estate boasts views of dramatic mountain ranges, endless rows of lush vineyards and hectares of gardens shaded by giant Oak trees.
Home to the world's first bottled pinotage, Lanzerac has a range of award-winning wines which has been honed over the years to maintain the excellent quality that the wine estate has become known for. At the Lanzerac Tasting Room guests can enjoy a sophisticated wine tasting experience, after which they are spoilt for choice for fresh and artisan dining options.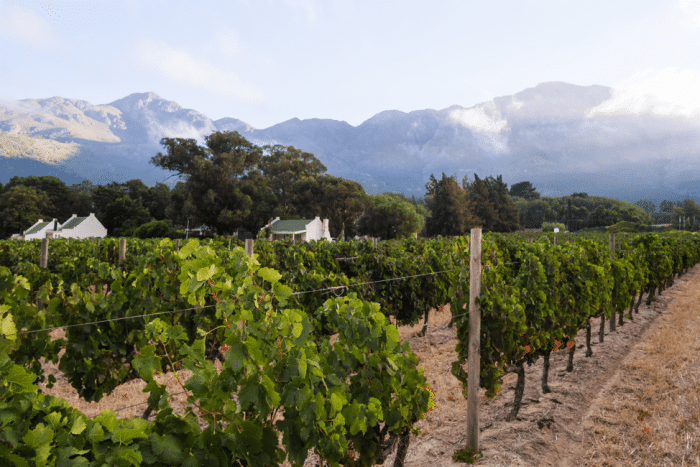 Guide to Franschhoek
Situated in the heart of the Cape Winelands Franschhoek is South Africa's Gourmet Capital.
With breathtaking scenery, warm hospitality, excellent cuisine, fine wines, distinctive artists, and a small village atmosphere, a visit to Franschoek is a necessity for those wishing to experience the magical splendour of the cape winelands.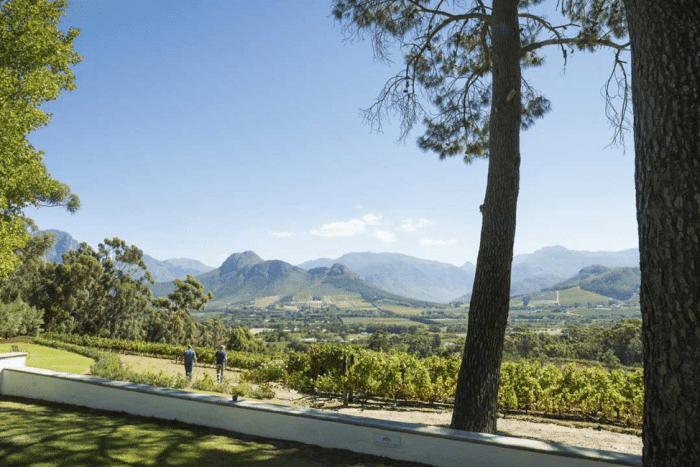 La Petite Ferme
Bordering on the town of Franschoek, La Petite Ferme offers exceptional cuisine, boutique wines, and luxurious accommodation.
The winery offers a full range of wines which includes red, white, rosé and Method Cap Classique. Guests can experience a tasting of 6 varietals accompanied by a selection of canapés courtesy of the kitchen brigade.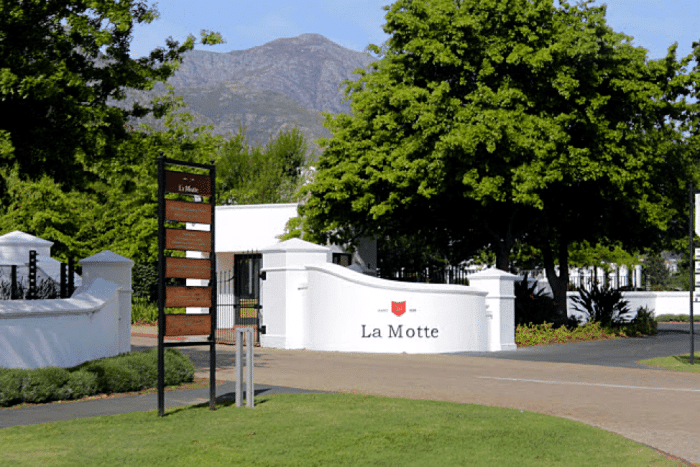 La Motte
This spectacular estate four national monuments the Manor House (c. 1751), Jonkershuis (c. 1752), Historic Cellar (c. 1782) and the Water Mill (erected between 1752 and 1793). The Water Mill is the only working water mill of its kind in the Franschhoek Valley.
La Motte wines have received a number of prestigious awards over the years. Visitors to the estate can enjoy a tour of the museum, fine dining at Pierneef à La Motte Restaurant, and multiple wine tasting options with a current vintage tasting, a food and wine tasting, and a vinoteque tasting in which guests can taste older vintages or a special selection of Syrah style wines.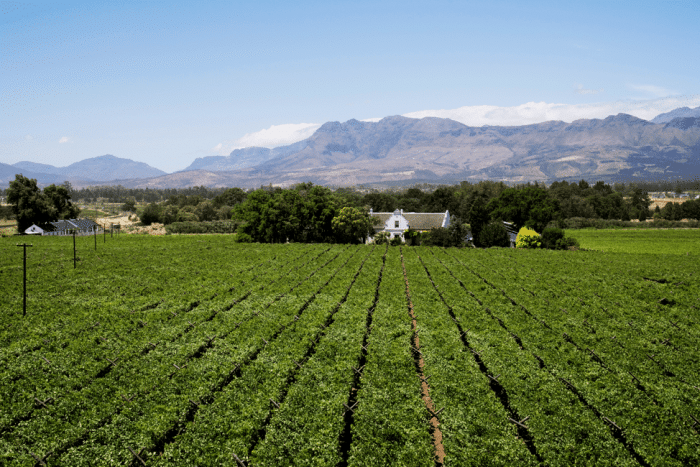 Explore Paarl
Paarl is a charming historical town that lies just outside Cape Town.
It is the third-oldest European settlement in South Africa and the largest town in the Cape Winelands, studded with traditional Cape Dutch houses, beautiful gardens and streets lined with ancient oaks.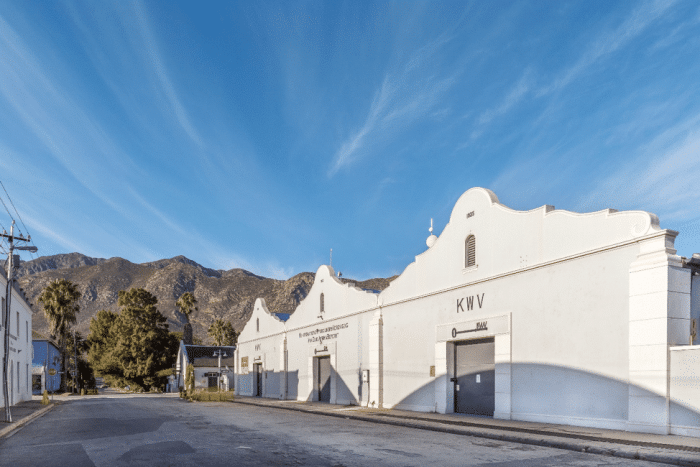 KWV Wine Emporium
KWV was founded by all the wine farmers in the South African industry in 1918, it was established to stabilise, support and structure a young, struggling industry. Today KWV is one of the most well-known wine establishments in South Africa.
KWV Wine Emporium is home to the world-renowned Cathedral Cellar, and the five biggest vats in the world under one roof. Offering wine, brandy, and tea tastings, KWV is a place that all guests can enjoy. While KWV Wine Emporium may be a departure from the typical wine estate, its rich history makes it a sight that all should visit.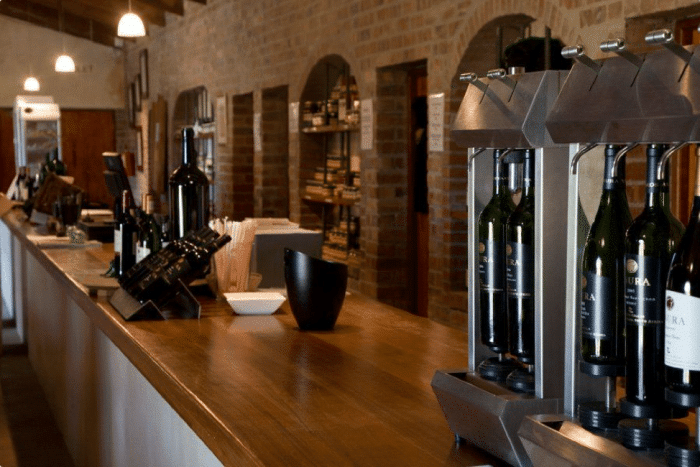 Anura
Positioned on the foothills on the Simonsberg Mountains, this relatively new vineyard offers guests an insight into modern winemaking. Anura grows a wide variety of grapes, however their passion is for red wine.
The Anura Vineyards tasting room has panoramic views that overlook the vineyards, ponds and fynbos. Guests can partake in wine tastings with an optional cheese or charcuterie platter that is made of produce from Anura's farm.
With so many choices of vineyards, estates, and regions the Cape Winelands is a definite must for anyone visiting the Western Cape of South Africa.